Carpet Stores in Owen Sound, ON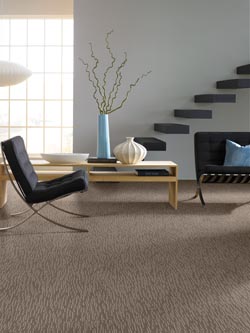 Are you trying to find the perfect way to upgrade the aesthetics, functionality, and value of your home? You don't need to do major renovations--all you need is one simple change. The right flooring can make all the difference. Look no further than our carpet store for all of your flooring needs. We have helped numerous customers find the ideal flooring to suit their home or office needs. Advanced technology has made carpeting last longer, withstand high foot traffic, and be easier to maintain.
From Berber carpet to nylon, there is a material, color, and pattern to match your aesthetic preferences. We recommend our carpet flooring in Owen Sound, ON, for its style, comfort, noise-reducing qualities, and thickness to protect falls.
Each type of flooring has different benefits, and with carpeting, some of those benefits can't be found in any other material. As a plush surface, it absorbs sound, creating a quieter, more relaxed atmosphere. Additionally, the texture offers friction, which is great if you have people in your household who are prone to falling.
Name-Brand Carpeting Options in Our Showroom
If you have a busy household with young children or pets, you may find that Innovia, Resista, Stainmaster, or Tigressa H2O are right for your home. If you're a business owner who gets a lot of heavy foot traffic, Core Elements and Gibraltar are durable enough to withstand the wear and tear.
We belong to a flooring franchise, and our store carries many trusted name-brand carpets. Some of the brands we keep in our showroom include the following:
Bedford Mills
Core Elements
Design Distinctions
Downs
Floorcraft
Gibraltar
Hearth & Home
Innovia
Just Shorn New Zealand
Resista
Stainmaster
Tigressa
Talk to our professionals to get a consultation before you decide on your flooring purchase. You should never have to go into a renovation project blind. With our free in-home consultations, you'll know exactly what to expect. Our carpet flooring specialists are happy to meet you at your home with select samples and help you narrow down your choices based on style, color, and comfort.
After you select which carpeting you like most, we measure the space and give you an estimate. This allows you to purchase just the right amount of material without wasting your money on flooring that won't be used. Once you make a purchase from our store, be sure to book professional carpet installation with us. We have the right materials and equipment to properly pad and stretch your carpet during the installation. Even the most difficult of projects can be handled by our team of professionals. We take care to keep your new carpeting free of creases and unsightly seams.
Area Rugs that Complement Home Décor
Interested in getting a new area rug? In addition to the many styles and colors we have on hand, you can also choose a piece of carpeting that can be made into an area rug. We are capable of turning selected pieces of carpet into area rugs according to your specifications.
Our team has the right carpet binding equipment to create the piece you want. Your home can greatly benefit from a distinct piece of decorating in any living area. Some of the benefits of getting custom area rugs to include the following:
Match the Existing Carpet in Your Home
Complement Décor Choices
Make Your Current Flooring More Comfortable
Temporarily Cover an Imperfection in Existing Flooring
Create Matching Rugs of Various Sizes
Save Money on the Purchase Price
Get a Custom Size or Length
Create a Unique Piece for Your Space
Make Your Room Look Bigger
With our sales associates' help, you can have complete confidence in the carpeting you select. We even back up our carpeting with our Confidence Plus Guarantee. This gives home and business owners a chance to try out 4- or 5-Star products for 30 days. If they aren't completely satisfied, we'll replace it with no additional cost for labor. It's just one of the many ways we work to ensure our customers are happy.

Make a change that increases the value of your home or office, contact us today to schedule an appointment with our carpet store. We are proud to serve clients in Owen Sound, Port Eglin, Wiarton, Kincardine, Hanover, Meaford, Flesherton, Tobermory, ON, and the surrounding areas.