Enhancing Homes With Luxury Vinyl Flooring in Owen Sound, ON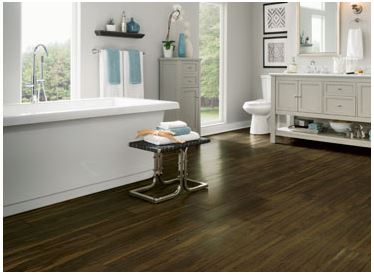 The search for a new floor that can handle daily activity from children and pets while providing a look to be proud of often leads local homeowners to Greyfair Flooring. It's not hard to see why, given our supply of durable luxury vinyl flooring in Owen Sound, ON. Our showroom boasts over 1,000 roll ends in stock to browse, and luxury vinyl is a choice material among them. There's a style for every home and every need. You can expect long lifespans and easy cleaning from all of them, with a cloth and mild detergent being all that's needed.
The Greyfair Flooring team offers more than 40 years of experience in flooring and design services. From plank flooring to luxury vinyl tile, we're qualified to explain the merits of each selection and help you make the right choice for your home and family. We want you to love what you leave with, which is why we provide complimentary consultations. These can even include free professional installation quotes, so you aren't caught by surprise when the time comes to place your floor.
Our Resilient Flooring Brand Names
Rather than settle for more of the same regarding style and color, ask about our brand names from the industry's most impressive manufacturers. They design luxury vinyl plank flooring that has textured surfaces like its wood and stone counterparts without the heavy maintenance of refinishing and sanding. By going with a trusted brand, you know you're getting a floor you can rely on for years. Our selection includes these and other top flooring companies:
Downs
Floorcraft
Galleria
Hampton Resilient
Naturcor
PurSTONE
Your Source for Luxury Vinyl Flooring Installation
Even more important than selecting the right floor is ensuring it's installed properly by those who are qualified to do so. Our company takes all of the work out of the installation process because we have a crew ready to go as soon as you buy the floor. Let us know when would be convenient, and we'll send over experienced installers with their own equipment.
Luxury vinyl flooring, like other materials, performs better and lasts longer when it's installed correctly. Allowing us to handle it is sure to save you money and hassle long-term. In contrast, going with a less qualified contractor could end up costing you if they make mistakes or take shortcuts. The Greyfair way lets you avoid that altogether.

Contact us to set up your consultation or quote. Our showroom welcomes families from Owen Sound, Port Elgin, Wiarton, Kincardine, and Tobermory, Ontario, and the nearby communities.