The Place to Shop for Luxury Vinyl Planks in Owen Sound, ON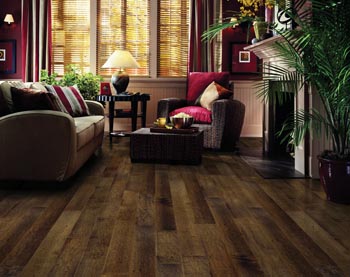 Choose a flooring style that combines beauty, comfort, and value — choose vinyl. Greyfair Flooring, Inc offers a wide range of vinyl styles, including those that mimic the look of hardwood. LVP provides the handsome appearance of wood flooring and a range of desirable benefits, all at a price you'll love. Visit our store to browse one of the most diverse collections of luxury vinyl planks in Owen Sound, ON.
A Great Wood Alternative
Hardwood has long been one of the most desired flooring materials, renowned for its natural beauty and strength. However, hardwood flooring is not suitable for every construction and renovation project. For one thing, it simply doesn't fit into some people's home improvement budget. And another, wood doesn't do well in rooms that are frequently exposed to water.
With a luxury vinyl plank floor, you can get the same appearance and texture as hardwood at a fraction of the usual cost. Likewise, vinyl doesn't have the same moisture concerns as hardwood. In fact, vinyl is highly water resistant, making it a great choice for the following spaces:
Kitchens
Bathrooms
Basements
Laundry Rooms
Entryways
Making Your Home a Better Place to Be
LVP flooring offers a lot of comfort for your home. It's softer underfoot than other hard surface materials; you'll be glad you choose vinyl when you stand at the stove cooking or at the sink washing dishes for long periods. Furthermore, vinyl's temperature insulation and soundproofing qualities help transform your rooms into better environments.
You'll also appreciate how easy your LVP floor is to clean and maintain. Routine sweeping or vacuuming is all you need to keep vinyl free of debris. With some occasional mopping and spot treatments, your vinyl flooring will look great long after installation — no special maintenance is needed!
Leave the Hard Work to Us
Make the most of your new flooring purchase by hiring our professionals for installation. We have a team of installers trained to work with every product we sell. Leave the hard work to us, and we'll ensure all warranty standards are met and that the surface looks just as good in your home as it did in our showroom.
Luxury vinyl plank floor installation provides a wide range of possibilities. Vinyl planks can be installed over virtually any surface without much need for preparation. Explore your options today by consulting with our staff.

Contact us for further information on our wood-alternative vinyl products. We proudly serve clients from throughout Owen Sound, Port Eglin, Wiarton, Kincardine, Hanover, Meaford, Flesherton, and Tobermory, Ontario, as well as the neighboring communities.