Waterproof Flooring in Owen Sound, ON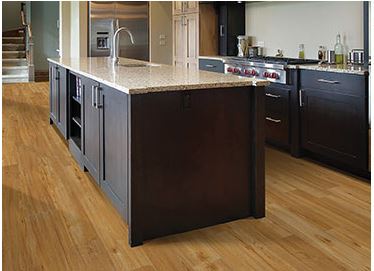 Make the right choice for your new floors when you shop at our local showroom. At Greyfair Flooring, we carry a complete and colorful selection of waterproof flooring in Owen Sound, ON, for spaces of all sizes. Rely on our associates to help you find the right option to enhance the look of your home while sticking to your budget. Visit our showroom to learn why waterproof luxury vinyl planks and carpeting are the preferred option for homeowners everywhere. They bring convenience, value, and a beautiful aesthetic.
The regal look of wood is on every homeowner's wish list. While this material is a popular option, it is not always the right choice for every space. Moisture-prone rooms like bathrooms and basements require a durable material that stands up to water. Our waterproof vinyl flooring gives you the freedom to bring the appearance of wood where it has never been able to go before, allowing for more uniformity throughout your home. Plus, when you choose this resilient flooring material, you avoid the need for repairs due to stains, warping, and other common issues.
Find Durable Waterproof Options for Your Home
For households with children or pets, it is essential that you select a flooring material that holds up to heavy use. Our waterproof carpet and vinyl options are designed to add a beautiful look to every home without the need for regular repairs and maintenance. From bedrooms to entryways, every room will look stunning when it is outfitted with these floors. With our selection, you never have to deal with the issues that heavy foot traffic and spills can cause. Instead, you enjoy a new and low-maintenance look with added long-term value and practicality.
How Does Waterproof Flooring Work?
These materials are crafted with a unique construction that empowers them to prevent liquids from soaking into carpet padding and the subfloor. From pet stains to spilled juices, every mess is easy to clean when you have a floor from us. We believe you shouldn't have to compromise the low maintenance factor with affordability and beauty, and at our business, you don't have to. We offer something for every lifestyle and every space. Parents and pet owners alike love how easy our floors make their lives.
Why We Stand Out From Other Stores
Besides being the biggest flooring showroom north of Toronto, we offer you a high level of buying power within the industry and over 40 years of experience. Clients take advantage of our in-home service to receive free professional installation quotes and measurements. Successful waterproof flooring installation is dependent on the correct amount of material. With the quote, you can also know how much it will be and ask about our financing options if you should need them. We offer all the assistance you need to make a confident purchase.
Create a stunning setup without requiring repairs and maintenance when you shop with us for your flooring needs. Our waterproof flooring inventory includes carpet, plank, and vinyl materials for rooms of all sizes. No matter what part of your home you want to upgrade, we have the perfect match among our flooring selection. We stock products from top brands like Downs H2O and Tigressa H2O. These are trusted names that have been manufacturing top-quality home and business floors for years. Some other vinyl and luxury vinyl tile designers include:
Downs
Floorcraft
Galleria
Hampton Resilient
Naturcor
PURstone
Professional Waterproof Flooring Installation Services
Complete your remodel job correctly when you turn to us to perform your installation. Once you choose the right flooring for your home, you can always count on us for the waterproof flooring installation you need. Our team is happy to come to your location to create the perfect setup. Starting your new floor on the right foot is as important to us as it is to you, and that's why we send only highly qualified installers. Our crews have their own equipment and know how to work with any waterproof material in any space. They're efficient, friendly, and always take care to clean up when they're done.
You've already invested in your waterproof flooring; wouldn't it be terrible if you paid for it and then it was installed incorrectly? That would mean expensive repairs and premature replacement. We're here to spare you and your floor from those fates. There's no one better suited to install a floor than those who have sold it and know how it's made and what it's made of. With decades of experience behind us, you can be certain that we know what to do. We'll have your waterproof floors installed quickly and correctly so you can start enjoying it right away.

Contact us and we'll find and install the waterproof floor for you. We serve the homeowners of Owen Sound, Port Elgin, Kincardine, Hanover, and Tobermory, Ontario, and the surrounding neighborhoods.